NEW 6.0
SAFARI Montage® netTrekker® Integration
SAFARI Montage now integrates with Knovation's netTrekker to provide co-customers with federated search access to over 360,000 educator-curated, standards-aligned digital learning resources through the SAFARI Montage Learning Object Repository™ (LOR).

Keyword Searches
Keyword Searches from SAFARI Montage can now search netTrekker's industry-leading learning resource library and results will appear on a new netTrekker Search Results tab in the LOR*
Search Results
Search Results, including website thumbnails and grade ranges, can now be saved in SAFARI Montage CreationStation™ for easy future access via Playlists and Lessons (Requires LOR Lesson Presenter)
One-Click Access
One-Click Access to netTrekker from the SAFARI Montage Dashboard Portal via an LTI Single Sign-On (SSO) feature*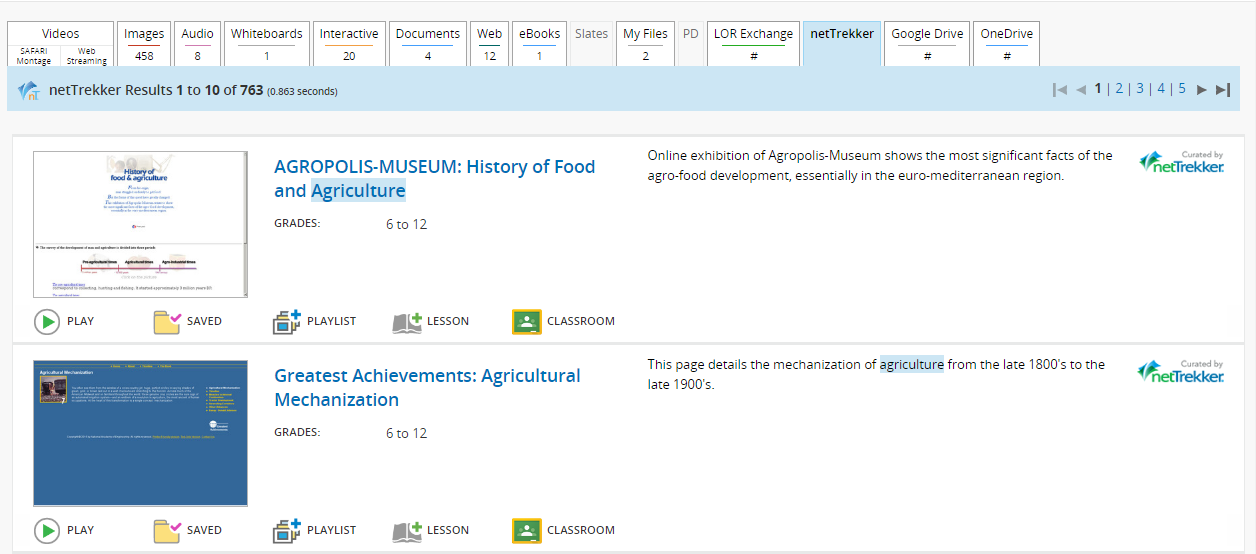 All netTrekker resources undergo a complete 127-point certification process before being certified as Learning Ready and added to the library.
As a part of the certification process, all resources are:
Curated by a curriculum content team, led by doctoral level curriculum experts, to present only the best digital content
Contextualized to align with state and Common Core standards and help identify resources to meet individual learning needs
Maintained to keep content current and maximize investment in digital content
*Note: Integration requires initial set-up as well as netTrekker Subscription and SAFARI Montage Interoperability Support Services or Learning Object Repository Subscription.
---