Channel Guide
This integrated module provides a simple, graphic interface to view program metadata, schedule digital TV recordings and watch live TV. Channel Guide data is maintained by Tribune Media Services, the world's most trusted source for television listings, channel lineups and metadata.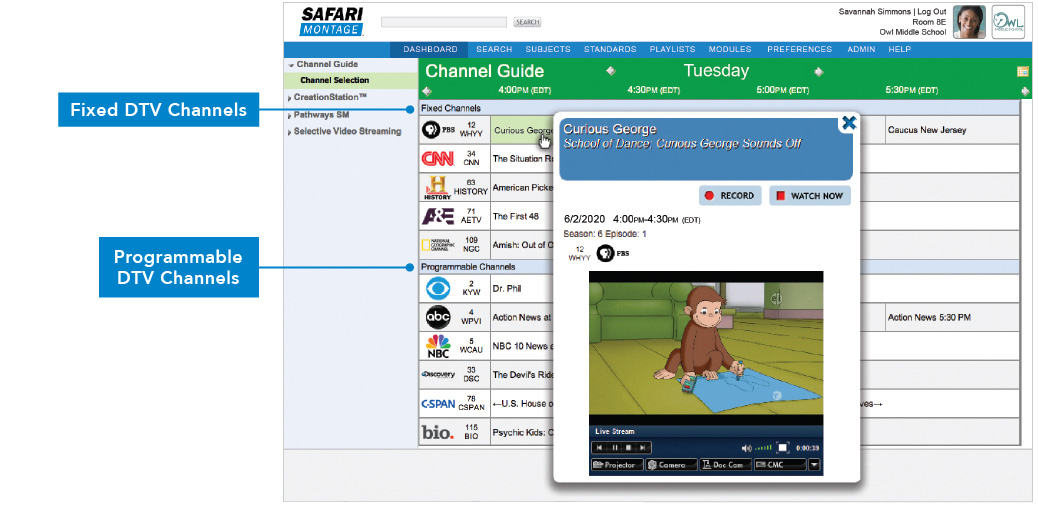 Restrict Access
Select Available Programming based on content ratings determined by the broadcast industry's TV Parental Guidelines.
---

Capture Digital TV programs, school news, classroom lessons, teaching best practices, school board meetings and more.
The N-DVR provides districts with the ability to schedule, record and store multiple video sources, including live streams and cable TV programming.
Supports Remote Learning
Easily capture lessons on video for future viewing by students at home

Easy Access and Simple Scheduling
Users can easily search recordings within the LOR and schedule future recordings of DTV programs directly from the Channel Guide

N-DVR System Requirements:
SAFARI Montage® v.5.4 (or later)
N-DVR Server—Technical Specifications
N-DVR Software
SAFARI Montage CreationStation®
Selective Video Streaming
Pathways SM™ to control DTV tuners
NEW 8.4

N-DVR now offers a 7-day retention option for all recordings


---